Genazzano runs a number of overseas tours and exchanges, as a part of our educational program. We offer three language exchanges to China, France and Japan, where our students are hosted by the sister schools in those respective countries and, in turn, we host students from those schools. The other tours are experiential trips to Italy, New York, Washington, Orlando and Europe.
---
Xiamen, China
This academic and cultural exchange program with Xiamen Foreign Language School in Xiamen, China is reciprocal. Each alternate year, we offer students in Years 10 and 11 the opportunity to participate in a trip to China. Over approximately three weeks, the students will stay with their host families, attend school every day with their host sisters and participate activities and events organised by their host families.
It is a wonderful and valuable opportunity for our students to immerse in the Chinese language and culture, develop intercultural competence and life-long friendships.
---
Tour de France
This cultural exchange program to France, for French students, runs every second year for approximately three weeks, for the purpose of reinforcing the French language and culture. The trip starts in Paris, which includes a visit to Notre Dame FCJ College.
The remainder of the time is spent in school and home immersion in and around the Bordeaux region of France, where the students experience intense French language firsthand, together with cultural enrichment.
---
Destinazione Italia
Each alternate year, we offer our students in Years 10 and 11 the opportunity to participate in a trip to Italy. Over approximately three weeks, the students travel through Milan, Verona, Venice, Florence, Sienna, Orvieto, Genazzano and Rome.
In the beautiful and historic city of Venice, the students enjoy a visit to their sister school Liceo Marco Foscarini. While in Florence, they attend language lessons and are provided with the opportunity to visit a number of famous galleries. Without doubt, a highlight of the tour is a two-day farm stay in Orvieto where the students participate in cooking lessons.
The final leg of the tour includes a visit to the town of Genazzano in the Lazio region, from which the College takes its name. The students learn much of the history of the town and its relationship to the College through their visit to the sanctuary of Our Lady of Good Counsel. From Genazzano they travel to Rome.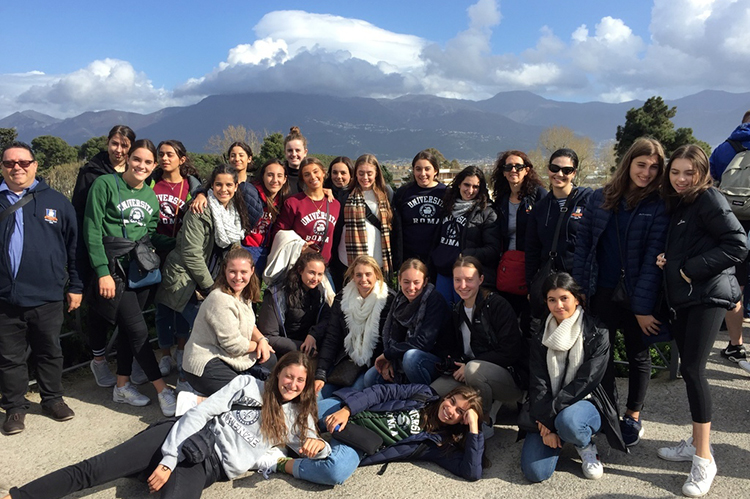 ---
Obayashi Seishin, Japan
Every alternate year, a group of our students departs for Tokyo for the eagerly awaited visit to our sister school, Obayashi Seishin in Kobe. The group spends approximately 20 days visiting the exciting capital, then continues to Hiroshima, Kobe and later Kyoto. It is a great opportunity for the students to spend two weeks at our sister school, where they are immersed in Japanese language and culture. Our students make many friends at the school and with their host families.
---
International Sporting Tour
The International Sporting Tour plays a vital role in furthering relationships between Genazzano FCJ College and international Faithful Companions of Jesus (FCJ) schools. This tour takes place every two years.
Students play a series of matches at around eight different FCJ schools across England, Ireland, Belgium and France. Further to the wonderful experiences of meeting new people, learning more about the FCJ charism and playing sport, the itinerary includes a range of valuable cultural opportunities.
There is a diversity of valuable lessons and experiences to be gained from the IST, but the greatest opportunity for the students and staff is to visit, experience and participate in activities with sister FCJ schools on the other side of the world.
---
European Music Tour
With our tradition of outstanding musicianship, the European Music Tour is an opportunity to encompass both musical and educational values for our students. Students are inspired by the cultural and musical offerings in the world's most well respected musical countries.
Students have the opportunity to visit musical cities, attend concerts and explore the culture in the countries visited – currently Belgium, Germany, Austria and the Czech Republic. They are exposed to music in cities that have produced history's most popular classical composers. Perhaps most significantly, the students have an opportunity to perform in a number of classical cathedrals throughout the cities visited.
---
Creative Arts Tour – New York and Washington
The aim of this tour is to provide students with the opportunity to experience and immerse themselves in all the creative arts opportunities that New York City and Washington DC can offer.
New York City is a city rich in artistic opportunities and experiences. The many galleries, theatres and design studios provide the perfect environment for our students in the creative arts to immerse themselves in a variety of experiences that assist in their understanding of key knowledge and skills within the arts. Some of these include visiting galleries such as the MET, MOMA, the Frick and the Whitney; along with participation in Broadway workshops and attending a Broadway show. Students will also visit important and significant landmarks including the Empire State building, Brooklyn Bridge, Rockefeller Centre and 5th Avenue. Students will be encouraged to create a photo journal of their experiences.
Washington DC also provides the students with rich and diverse opportunities in history and art. Students visit the Smithsonian Institution and Washington art galleries including The Newseum which focuses on media print and film. It is an immensely rewarding experience for all who are able to participate and the College is extremely pleased to be able to offer such a wonderful and artistically rich experience.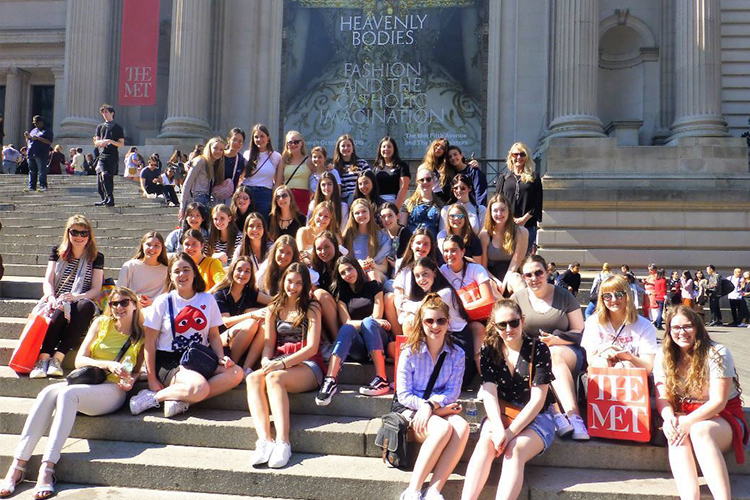 ---
STEM Tour – Washington DC and Orlando
The STEM Tour gives students the opportunity to experience firsthand a galaxy of cutting edge technologies to inspire them as the next generation of game changers.
Beginning in Washington DC, students will engage in a range of guided and self-guided tours, from Capitol Building and Georgetown, to various Smithsonian Museums.
Moving on to Orlando, Florida, students will participate in Clean the World volunteer program, experience WonderWorks and Universal Studios and participate in a five day International Program at Camp KSC International, NASA Kennedy Space Centre.