Music for healing and wellbeing
Professor Felicity Baker talks about Music Therapy
Music is an amazing force in our everyday lives that we use for enjoyment, learning, relaxing, energising, connecting and celebrating. Research suggests that music can be a useful and powerful way to promote healing and enhance day to day living.
To find out more, we interviewed Professor Felicity Baker, who is head of Music Therapy and Director, International Research Partnerships for the Creative Arts and Music Therapy Research Unit (Conservatorium of Music, University of Melbourne). Felicity has received numerous career awards and published many journal articles and books. She has a particular interest in neuro-rehabilitation and dementia and therapeutic song writing.
Tell us a bit about music therapy and why you chose to work in this field.
Felicity: I first discovered music therapy while I was a Year 10 student at Genazzano. Our careers counsellor was assisting me in choosing my subjects for Year 11, and I told her I was interested in health but was also passionate about music and she suggested this field. I have never looked back, and at 50 years of age, some 35 years later, I am still as passionate about music therapy as I was when I first heard about it. I chose to work in this field because I have experienced first hand how music can be a support during difficult periods of my own life, and I wanted to be able to use the power of music combined with my trained therapist skills to assist others during difficult times.
Music Therapy is a field whereby a trained music therapy clinician uses music in purposeful ways to support the health and wellbeing of people with varying life challenges across the lifespan. We work from babies in NICU, to young people with mental health challenges, to neurorehabilitation, cancer care, and dementia.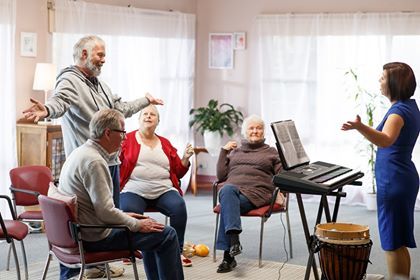 How can music be utilised in therapy to support people with mental health issues?
Felicity: We know that music stimulates interconnected brain structures that are useful for assisting people with mental health issues. Music stimulates the mesolimbic system, thereby driving the release of dopamine, a neurotransmitter that is responsible for experiencing pleasure. The mesolimbic system, otherwise known as the emotion-reward system, is activated when we engage in music in the same ways as sex and drugs – except music is harmless and non-addictive.
How can songs and song writing facilitate wellbeing?
Felicity: Singing can also lower our body's cortisol levels, a hormone that can contribute to feelings of stress and anxiety. It is for this reason that music is used when we go to the dentist or when they are preparing for a school exam. For my work with people living with dementia, it is helpful to use music with people with dementia when they are experiencing stressful care situations such as showering or going for a walk outside.
I think it is important to note the difference between using music for self-care and being treated by a music therapist. A music therapist may be needed when working with people with severe mental health issues because while music is thought to be positive and healthy for us, there are unhealthy music practices. For example if music makes one ruminate on negative feelings, this can lead to greater degrees of anxiety or depression. Because music is so powerful in affecting our emotions, it can be positive but also has the potential to be harmful.
Another reason music can be beneficial for wellbeing is because it is often attached to positive memories. When we hear familiar songs, it may cause a music-stimulated autobiographical recall response. Here, music triggers emotions and memories of our past which are often joyful and meaningful.
When we are finding ourselves going through a 'bad patch', music can match our feelings and be like a comforting partner to us, making us feel less alone as well as 'understood'. When a song expresses feelings that we may be feeling, we realise that we aren't alone in experiencing this, which helps us cope.
Songs are essentially stories that the songwriter tells an audience. It is usually about something powerful – love, struggles, pain, anxiety, disappointment, distrust, any range of emotions. When I facilitate song writing with people who have received an acquired brain injury, we use the song writing experience to help that person come to terms with life post-injury. The songs look at the past self, the present self and the imagined future self to assist the person in integrating these 'selves' into a coherent whole person. The music permits the expression of the emotions so that the lyrics have greater meaning than if they were just recited. I have also used song writing with family carers of people living with dementia. Carers have told me through their lyrics about their struggles, the grief they experience as they see their loved one deteriorate, their own experience of becoming a carer, and their anxiety about the future. Again the power of the lyrics becomes heightened when emotive music is added to it. As people create their songs, they are faced with acknowledging what has happened to them (or will happen) and to process this with the therapist.
Many people who are mentally well enough, can use the song writing process to support their own growth and wellbeing. Many of the best songs ever written were composed by people who wrote about their own struggles. Many rock musicians will tell you that their best songs were written at times of pain and anger, and that expressing these through their songs assisted them in coming to terms with life and what it threw at them at that time.
Tell us about your current research project.
Felicity: Which one! I have several projects funded by the National Health and Medical Research Council. One is with people who have had a stroke and now cannot speak (aphasia), one with people living with dementia in residential aged care homes (this is wrapping up now), and the other is with family carers of people living with dementia. The latter one is an international trial that I am currently leading, involving research teams in Germany, Poland, Norway and the UK. We are testing the impact of a family program whereby we teach the family carers how to use music to support the care of their loved ones. It is a randomised controlled trial with a target sample size of 495 family carers and 495 people living with dementia. It will be one of the world's largest music therapy trials once we have completed it. In the trial, we also collected health economic data so we can calculate not just the effectiveness of the intervention but the cost-effectiveness. We want to know how much money our intervention saves families and the health care system. In other words, should the government invest in this!
How is music useful in day to day care of people with dementia?
Felicity: People living with dementia are often confused, disoriented, and become agitated, especially in the afternoon when their arousal levels become high following a day's stimulation. They also are at greater risk of depression, poor sleep, and experience delusions and hallucinations. They become disconnected from their family because they withdraw into themselves, stop interacting verbally, and may appear vacant. Music, when used appropriately, can help to orient a person. When they recognise a familiar song, it brings them to life. They connect more with their surroundings and become less confused and disoriented. This has a flow on effect to being less agitated. The feelings of wellbeing from the dopamine release help combat depression. Also, when sharing music with others, we feel connected to them and that also helps to combat feelings of isolation which often are associated with depression.