Victoria's only Catholic all-girls' boarding school, Genazzano has a long and proud history of educating and nurturing the wellbeing of its students for well over a century.
Our Hopetoun Hall Boarding House accepts students from Year 7 upwards and offers a safe and welcoming community where girls are fully supported by boarding staff and their peers.
Boarding offers students a wide variety of positive and significant opportunities for personal growth and wellbeing; as well as the development of independent life skills and lifelong friendships.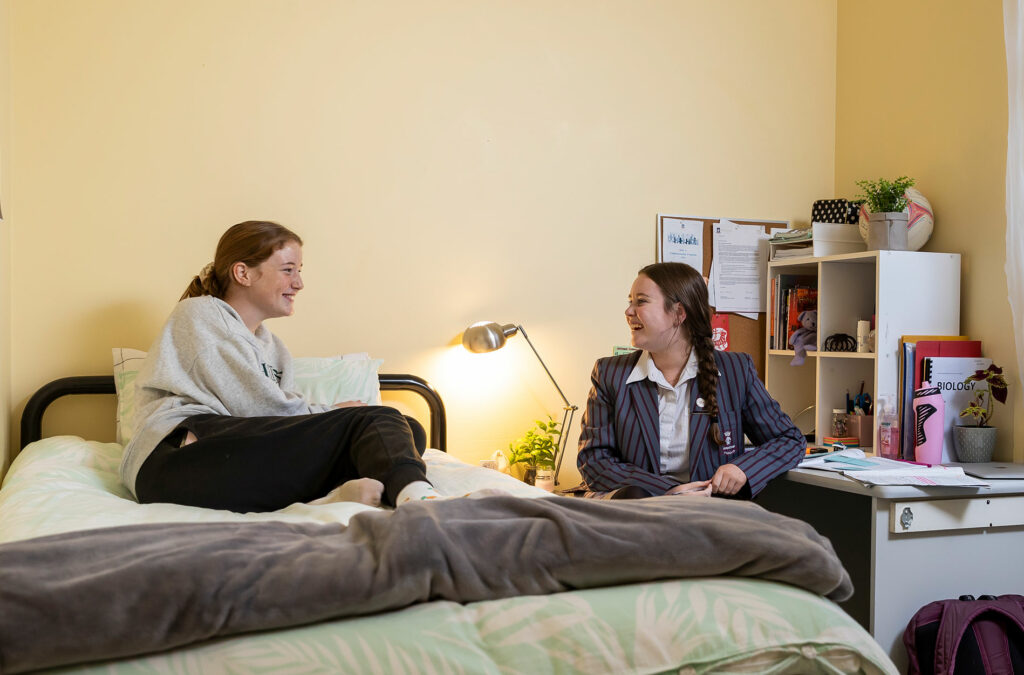 Hopetoun Hall boarders are well represented within the College in leadership roles and as recipients of academic honours, sports and performance awards.
The academic benefits of boarding include the strong and close support of teachers, boarding staff and peers. Within Hopetoun Hall, boarders are involved in social activities, study routines and tutoring programs to enhance and enrich their learning experience. This strong learning culture supports all boarders with students often spending time studying in groups, where they encourage and champion each other.
Boarders are responsible for organising themselves and managing their time just as they would at home. These responsibilities assist in the development of a range of independent life skills and prepare the girls for life beyond the gates of the College. During their time as boarders, girls are provided with many opportunities to immerse themselves in co-curricular activities such as music, creative arts and sport and are encouraged to participate socially in events, including friend/family celebrations and group excursions.
Our Boarders enjoy many valuable experiences during their time at Genazzano. They leave as independent, confident and caring young women with an aspiration towards excellence and motivation to maximise their strengths and talents to reach their full potential.
Each year, the Gavin Smith Boarding Scholarship is awarded to a Year 9, 10 or 11 student in honour of the work of one of the early founders of Hopetoun Hall, Mr Gavin Smith. The successful applicant will have demonstrated:
a commitment to the College and its philosophy
a sound academic record
demonstration of need.
The remission is applied to tuition fees only.
Boarding opportunities
Genazzano offers full time, weekly and casual boarding options, providing flexible arrangements for current day students from Years 7 to 12 as well as ongoing boarders.
Families may be interested in trying weekly boarding to improve their daughter's academic performance or to help her develop greater independence. During peak times when family and work commitments are demanding, weekly boarding can provide an organised and predictable routine; and a consistent and structured community environment conducive to developing good study habits and strong friendships.
Weekly boarders stay in the house from 5.00pm Sunday to 5.00pm Friday participating in all the routines and programs of the house. All meals are included and boarders are cared for by dedicated and experienced boarding staff. Mrs Lauren Kennedy, Director of Boarding is in close communication with the College teaching staff and leadership in order to fully support the growth and learning of each girl.
Casual boarding is for short term stays at the boarding house, where families can select specific night(s) each week to board across a term. Casual stays must be booked in advance and for a fixed number of nights for that week. Casual boarding may be useful when family members are away on work trips or have adhoc commitments that disrupting their schedule. Note casual boarding is subject to availability.
---
A Brief History of Boarding at Genazzano
Boarding has always been an important part of Genazzano FCJ College. Since the College began, boarding was managed by the Sisters Faithful Companions of Jesus until the 1970s.
In the 1980s, a group of country parents formed Hopetoun Hall Inc. They obtained the Hopetoun Hall premises, organised staff and setup a boarding facility for their daughters and others so they could attend Genazzano FCJ College.
The original Hopetoun Hall premises has since been extended to incorporate the 40 bed residence that is in operation today.
Now managed and supported by the College, the Hopetoun Hall Boarding House is a thriving community with boarders from across Australia and overseas, with most from country Victoria and New South Wales.
We are very proud of our Boarding House and have certainly seen many young women pass through our doors. As we are the only Catholic all-girls' boarding school in Victoria we hold a very privileged and responsible position within the boarding school industry.
Life in the Boarding House
Moving away for school is a significant milestone in your daughter's life and your daughter may be feeling a mixture of excitement and trepidation. Most students adjust to boarding over time and will really enjoy their experiences and form lasting friendships with their housemates. There is also a resident Director of Boarding and experienced, dedicated staff who care for and support the girls in the house. This team work closely with College staff including the Deputy Principals, Director of International Students and Performance Psychology staff. The Director of Boarding also maintains regular communication with all boarding parents, in Australia and overseas.
In addition to providing emotional support, Hopetoun Hall offers a welcoming home physically for its students. The Boarding House is comprised of two buildings – a character-filled original home which is connected to a modern purpose-built residence. The house offers a range of facilities for boarders including a dining room, recreation room, TV room, separate sitting area for senior boarders, sick bay, piano room, computer room and small gym. There are also outdoor areas with tables and chairs where boarders can enjoy a weekend lunch in the shade. There is also a laundry with four washing machines and two commercial dryers for boarders to use.
Meal times, especially the evening meal, is a special time for boarders where they can share their news while enjoying dinner together. Meals are prepared by a chef, with afternoon tea, supper and lunch on weekends managed by house staff. Lunch and recess snacks are obtained from the College cafeteria, with a variety of options on offer for lunch.
Boarders in Years 7 to 11 are accommodated in twin share bedrooms with a single bedroom provided for Year 12 boarders. All bedrooms contain a bed, desk and wardrobe. Boarders may bring a bedside table or small chest of drawers if they choose.
Room changes occur periodically and are an important part of the boarding experience, encouraging the development of friendships, respect and tolerance for one another.
Study time is an important part of boarders' daily schedule and is supervised to ensure the best conditions are available for everyone. English and Mathematics tutors attend the house two evenings a week and boarders can reserve a time with them. Parents who would like their daughter to have a session with a privately arranged tutor may do so through the Director of Boarding. All tutors must be verified and have current Working with Children Check cards.
All boarders are required to participate in the duty roster. Boarders will be allocated to a team for the year and will be rostered on dishes or clear up duty in teams for seven days.
Daily routine
7.00am      Woken by staff, dress in school uniform, breakfast by 7.30am
7.30am      Tidy room, make bed and prepare for school
7.40am      Leave for school
4.00pm      Return from school, afternoon tea, participate in outings/sport/music activities
5.30pm      Report back into house
6.00pm      Dinner in casual clothes, duties, walk, leisure activities
7.00pm      Study time (Years 7 to 9 until 8.30pm) and (Years 10 to 12 until 9.00pm)
8.30pm      Year 7 to 9 shower
9.00pm      Supper available
9.30pm      Years 7 to 9 bedtime / showers completed for Year 10
10.00pm    Year 10 bedtime / all showers to be completed. All boarders in their own rooms
10.30pm    Year 11 bedtime
11.00pm    Lights out for Year 12
Performance Psychology for Boarders
The Genazzano Performance Psychology team includes a team of psychologists who support all Genazzano students in their learning and wellbeing, including boarders.
This team is available to share practical advice for boarding parents/guardians to assist your family with preparation and transition.
Friends of Hopetoun Hall was established in 2013 to help provide a network of support for Genazzano boarders. This parent led community is an important component in the life of a boarder, enabling families from across the country, and indeed the globe, to connect.
The highlight of the boarding calendar is the Friends of Hopetoun Hall Annual Mass and luncheon which is a wonderful opportunity to reflect and give thanks, and to celebrate the achievements of the boarding students. This is an especially lovely occasion to welcome new families to our boarding community.
Friends of Hopetoun Hall hold regular gatherings throughout the year, keep families up to date with activities and provide many other opportunities to share their experiences. Additionally, the College Development Team host events in rural Victoria and New South Wales which provide an opportunity for prospective families to meet current and past families and obtain valuable insights into the Genazzano boarding program.
Genazzano boarders and their families feel part of a wider network of supporters through Friends of Hopetoun Hall and this community is a natural extension of the welcoming and engaged environment at Gen.
Contact Us
To find out more, please download a copy of our Boarding Handbook above. Alternatively, please contact our Enrolments Team via [email protected] or +613 8862 1000.