A Day in the life – Prep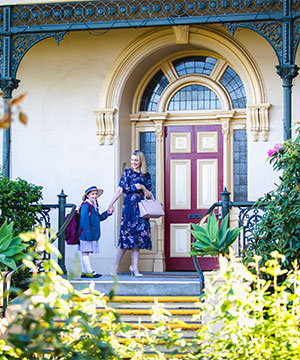 Sienna arrives at Grange Hill with her mum, Victoria. Victoria also attended Genazzano from Prep to Year 12 and wanted the same diverse and rich learning experience for Sienna.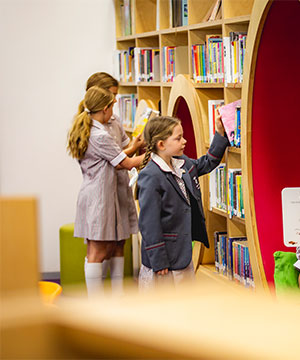 Sienna begins her day with a visit to the Library before school. Some of her friends are already here and are excited to show her some new books that have just arrived. After some deliberation, she has finally chosen her favourite new book to borrow.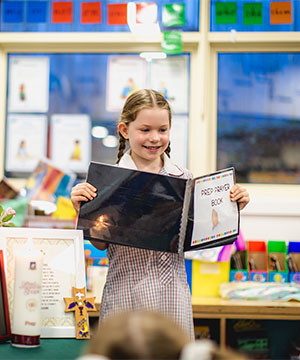 Prep to Year 4 students start their day with Homeroom. Mornings are always a busy time in Prep as the girls check in with Miss Bimrose to chat about last night's reading and review their word of the week.
Each morning begins with prayer, givings the girls time to gather together and reflect on the day ahead.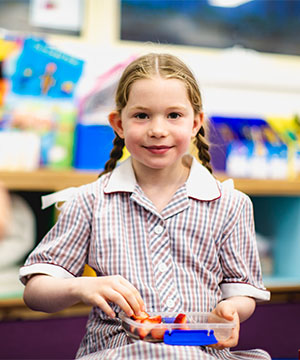 Mornings start with a two-hour literacy block. To help her stay focused on her reading, writing, speaking and listening, Sienna enjoys her fruit snack and is now in one of the literacy rotations for today. Miss Bimrose works with each student during this time, and is amazed to look back at the girls progress in just 9 months!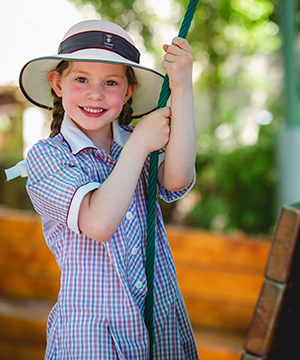 Sienna is looking forward to recess and heads outside with her friends. With so much space to explore, the girls love playing hide and seek in the fairy garden, running around and climbing on the play equipment.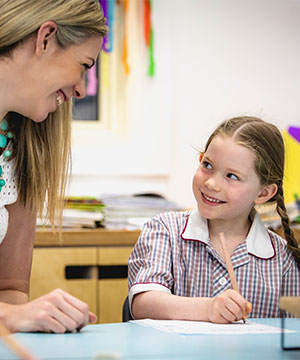 It is now time for the daily Maths block, Sienna's favourite! Today she is exploring counting and place value. She shares her learning via an app called Seesaw with her mum and dad. Tonight they can look at her work and chat to her about her learning.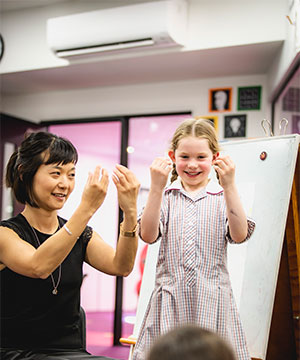 After Recess, Sienna has one of her specialist subjects, Mandarin. She has two Mandarin and two Italian lessons each week. She is looking forward to seeing Miss Wu.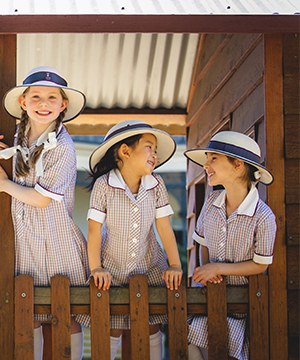 After enjoying lunch on such a warm day today, Sienna and her friends play in the cubby. The Prep-4 playground has plenty of space for everyone!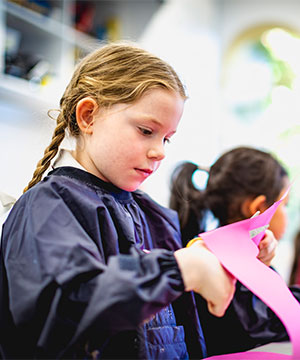 A highlight of Sienna's week is her Art class. After lunch, it's all systems go with a heart artwork inspired by Burton Morris. Sienna loves the energy and colours of Pop Art.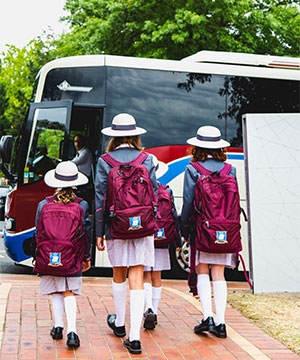 After another great day, Sienna heads home. She takes her reader and Miss Bimrose has posted a video of a maths game to GenConnect that Sienna can play at home with her family.
Just like her mum before her, Sienna loves being a Gen girl!
The Junior School at Genazzano caters for students from Prep through to Year 6. Grange Hill is home for the Prep to Year 4 students and Year 5 and 6 students make the transition to the D'houet Building, a purpose built facility with flexible learning spaces. Students have access to a number of specialist spaces such as science labs, art rooms and library, as well as shared learning spaces for quiet study.
Genazzano FCJ College is a candidate school* for the PYP. This school is pursuing authorization as an IB World School. IB World Schools share a common philosophy – a commitment to high-quality, challenging, international education – that we believe is important for our students.
* Only schools authorized by the IB Organization can offer any of its four academic programmes: the Primary Years Programme (PYP), the Middle Years Programme (MYP), the Diploma Programme (DP), or the Career-related Programme (CP). Candidate status gives no guarantee that authorization will be granted. For further information about the IB and its programmes visit http://www.ibo.org.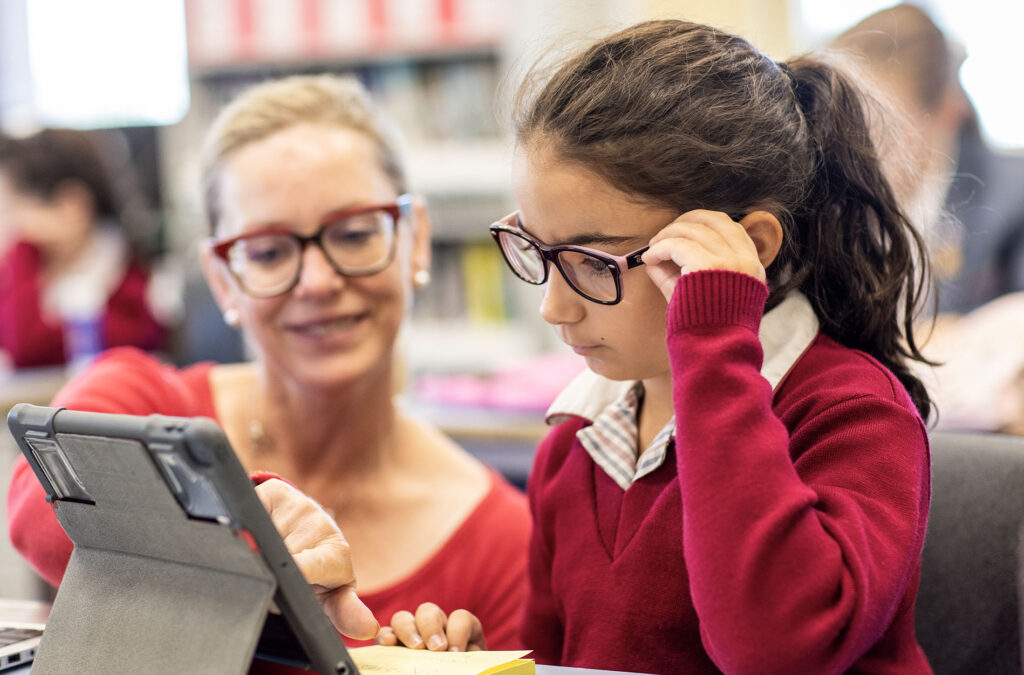 ---
Why transition to Genazzano in Year 5?
A number of key Genazzano programs commence at Year 5, from our Co-curricular Program to our Year 5/6 Music and Sporting Programs. Having the opportunity to immerse themselves in these programs allows our students to settle into the life and routine of a Gen Girl, enabling a very smooth transition into Year 7 and the Genazzano Senior School.
---
Our Junior School – Quality Learning & Teaching
The Junior School has the support of Literacy and Numeracy Coaches, a Learning Enhancement Teacher, a Digital Technologies Teacher and a Gifted and Talented Program. The team approach to the education and formation of our youngest students is central to the success of the Junior School, where each student is known and her needs met in a personalised and targeted way.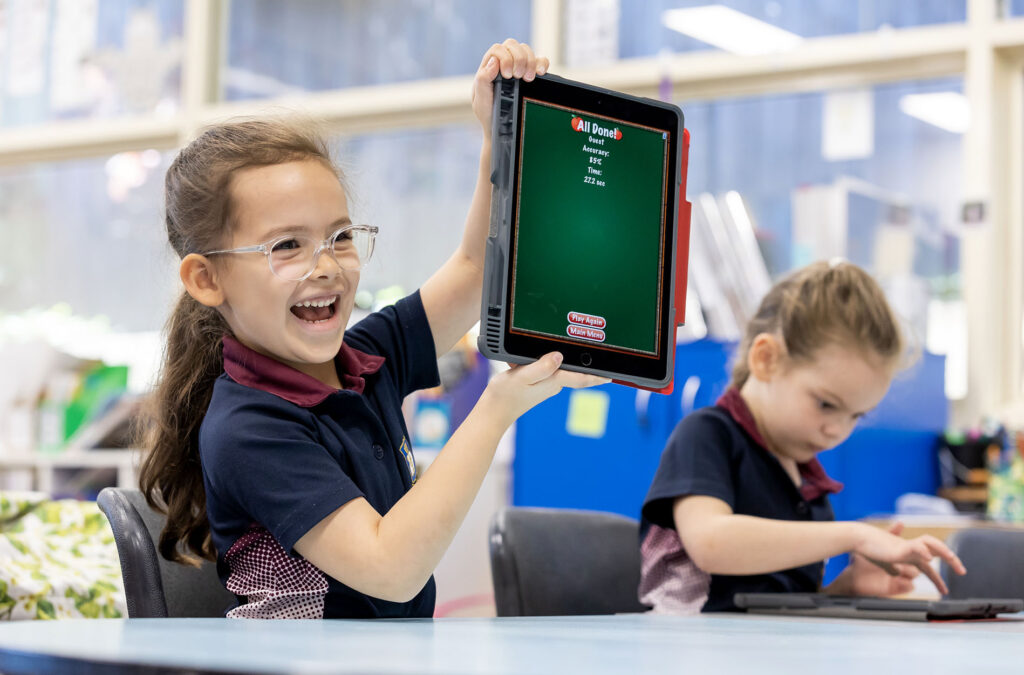 Opportunities
The girls in the Junior School are afforded many wonderful opportunities to add depth and breadth to the classroom curriculum. Our camp program commences in Year 2 with CampGen, an 'in house' extended school day, all the way through to Year 6 where the girls head to Canberra for a full week's immersion in the history and politics of our great nation.
Our Physical Education program is extensive and rigorous and features a fortnightly swimming lesson in our indoor 25m swimming pool for all students, tailored specifically to meet each girl's skills and experience. The co-curricular program begins in Prep with offerings such as tennis lessons, music tuition, dance classes and chess club extending to over 130 different activities in Years 5 and 6. We hold a yearly art show, Les Jeunes Artistes, which showcases the beautiful and unique artworks each girl has created through our Art Program and the Prep to Year 4 and Year 5 and 6 productions are not to be missed.
Our Junior School girls interact with many wonderful role models in our Senior School. Interaction with many of our College Leaders brings an added dimension to the learning of our girls and involves them in the broader life of the College, through events such as Sustainability and Social Justice weeks, Gen Day and Gen's Got Talent. College House events are a highlight on the calendar, with Junior School students being full participants in athletics and swimming carnivals. Our very youngest students join with our oldest students in celebrating academic achievement across the College and see firsthand where aspiration, determination and commitment can lead.
---
Information & Communication Technologies (ICT)
Prep to Year 4 students each have an iPad for their exclusive use within the classroom. Classrooms are digitally rich learning environments, using interactive white boards, Apple TV and video streaming to engage and stimulate.
Students in Years 5 and 6 use Apple MacAir notebooks in the classrooms across all curriculum areas and are also able to engage in GenTech, the co-curricular program that enables students to explore digital technologies, programming, coding and problem solving.
---
We keep in touch
We understand the importance of communication with home and parents and seek to form a partnership with our families. We do this by providing regular contact between parents and teaching staff. All students and families have access to the College Learning Management System (GenLMS) which provides online access to all class and teaching materials. GenLMS also provides all students with extension work and extra resources to help support what is presented in class. Students can also view their timetable and receive automatic notifications about deadlines and review feedback online across multiple devices.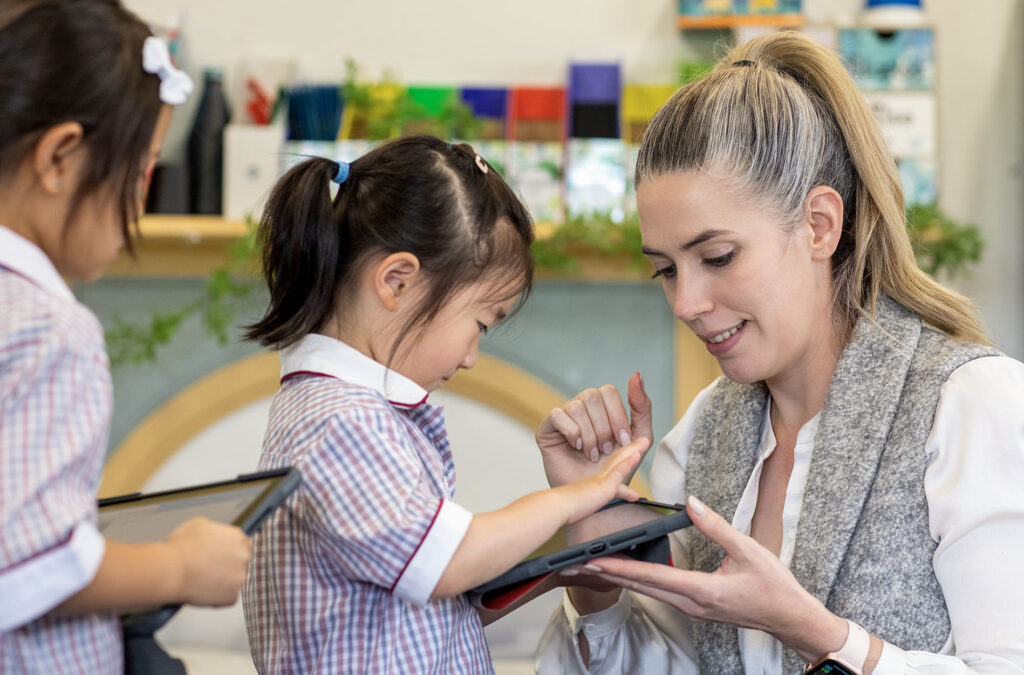 ---
Discover the Junior School at Genazzano FCJ College