A Day in the Life – Year 5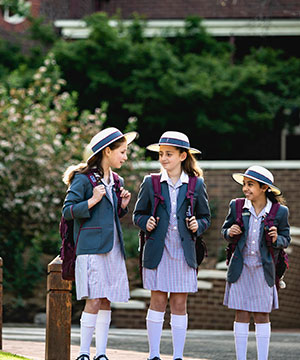 Juliette arrives at school and catches up with her friends. They head to their Homeroom and get organised for the start of the day. Juliette's class settles in and begins the day with prayer. Morning prayer helps to focus the girls on the day ahead and the many blessings we have in our lives.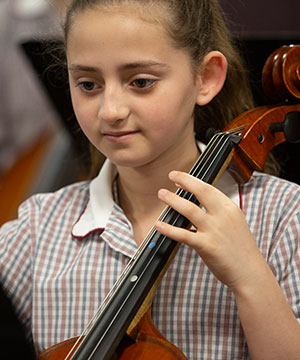 Juliette's class is off to their Instrumental lessons. These are held weekly and Juliette has a small group lesson and then rehearses with the beginner band. Juliette is learning cello and hopes to play in Madeleine Strings one day.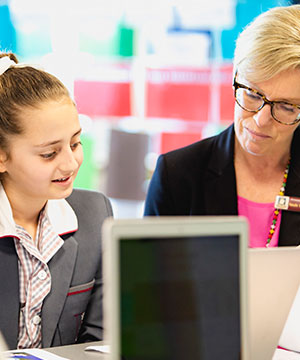 Juliette's English lesson is next and today the focus is writing. Juliette has been experimenting with using powerful action words in her writing to bring it to life. Juliette chats to her teacher, Mrs Vander Sluys to check in and see how she is going with this goal.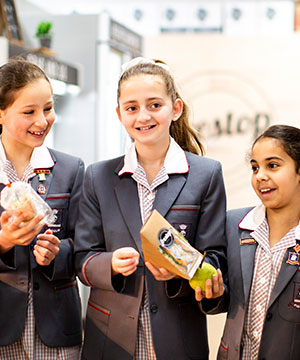 It's recess time and Juliette heads to Cafe 301 to grab something yummy to eat. There are many places Juliette and her friends can relax at recess and today the girls are headed to the Atrium together.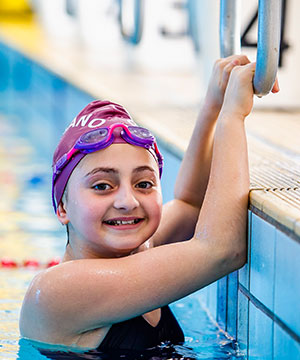 Juliette's PE lesson is at Centenary Pool, where her class has a swimming lesson once a fortnight. The Year 5 girls are working on perfecting their backstroke technique.
A trip to the Science Labs is next. Today Juliette is measuring the cooling rate of water in containers that have different surface areas. Juliette and her classmates are working on the prac together, trying to simulate how animals with big ears are able to regulate their body temperature in the desert.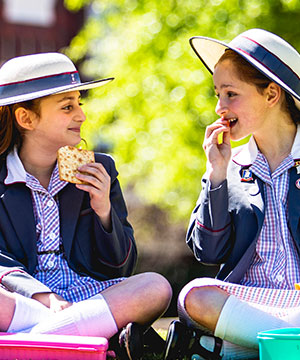 Lunchtime! Time to refuel again. There are so many beautiful places to sit, today Juliette and her friends are heading to the oval to watch some co-curricular training sessions.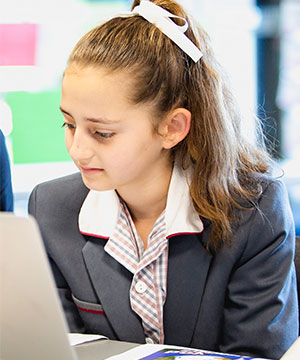 Lunchtime has finished and the girls head back to class. This term the girls are learning about 'systems' in Inquiry Learning and they are investigating the many systems within our bodies.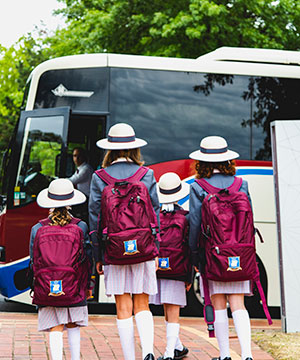 Juliette waves goodbye to some of her friends as they board the College bus homeward bound.
Another day of learning and companionship ends for Juliette, as she heads home.
Why transition to Genazzano in Year 5?
At Genazzano, our Year 5 students are offered diverse possibilities for learning and develop both independent and collaborative working skills. The transition from Grange Hill to the multi-level d'Houet building allows our students to utilise the specialist spaces available to our senior students. Having the opportunity to immerse themselves in these spaces allows them to settle into the life and routine of a Gen Girl, enabling a very smooth transition into Year 7 and the Genazzano Senior School.
Curricular Program
The Genazzano Co-curricular Program is available to students from Years 5 to 12. Students are offered extensive opportunities across a diverse range of interest including sport, music, the arts, drama and social justice.
Leadership Opportunities
Eight leadership opportunities are available across the year at Years 5 and 6, giving many girls the chance to experience and learn from being a leader.
Music Program
Commencing in Year 5, this two year, fully funded program, gives students the opportunity to learn an instrument in a small group of two, three or four students, as well as belong to ensembles and perform alongside and be mentored by more experienced musicians.
Specialist Programs
From Year 5, our students are immersed in specialist programs including weekly lessons in Music, Drama, Science, Art, Italian or Mandarin, Physical Education and a fortnightly swimming lesson. All classes are carried out in our purpose built facilities. These classes are designed to enrich the student learning experience and engage them in thinking and creating in new ways.
Wellbeing and Support Programs
Continuing on from classes and support offered at Grange Hill, the Performance Psychology and Learning Enhancement departments work with our students, running a fortnightly GenSTAR session and helping them enjoy a positive and enriching learning environment.
Year 5/6 Sport
During Terms One, Two and Three, Year 5 and 6 students participate in a compulsory after school sport program. This gives students the opportunity to compete on a friendly basis in a variety of sports. The emphasis of the program is on teaching the relevant skills and match play aspects of each sport.