Nominations for the 2022 Outstanding Alumna are now open and will close on Friday 1 July 2022.
2022 Outstanding Alumnae Nomination Form
2021 Outstanding Alumna Award Recipient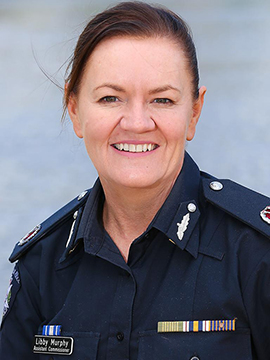 Libby Murphy
Libby Murphy has had an illustrious career in the public sector. With thirty-two and a half years in the Police Force, Libby climbed the ranks in a male dominated industry demonstrating how her resilience and determination, combined with her compassion, has been the foundation for her success and making her a worthy recipient of the Outstanding Alumna Award for 2021.
Libby has achieved a great deal as the first female in many of her career roles including as an investigator, supervisor and manager across rural and metropolitan areas in the Police Force. Libby became the first female Assistant Commissioner – Road Policing Command and as the Chair of the Australian Road Policing Network is the face of the road policing in the Australian community, consistently advocating for better driver behaviour and road safety that will save lives. At the commencement of COVID-19, she and her team developed the operating model for the management of vehicle checkpoints across the State of Victoria to maintain the safety of our borders. In the midst of this, Libby also bravely led her team in response to the tragic deaths of four members killed serving the community, on the Eastern Freeway in April 2020; and established and oversaw the investigation team who tirelessly worked to hold the offending driver accountable for their deaths.
No stranger to challenging and hard-hitting situations, Libby was responsible for a review and implementation of improved family violence responses and systems within Victoria Police after the Royal Commissions into Family Violence in 2016 and into Institutional Responses to Child Sexual Abuse in 2017. She implemented multiple projects, policy and legislation changes across the organisation to initiate positive transformation. She was also the detective who responded to the Black Saturday bushfires and the Disaster Victim Identification reconciliation of the 173 victims and other outstanding missing persons. In 2019, she was selected as one of six law enforcement and intelligence women across the "Five Eyes" (USA, Canada, Great Britain, New Zealand and Australia) to become a LinCT (Leadership in Counter-terrorism) alumnae.
Libby has been acknowledged for her hard work and efforts with multiple awards: the Victoria Police Service Medal, the Australian Police Medal (2020), the National Emergency Medal awarded for her service during the 2009 Black Saturday Bushfires, the National Police Service Medal and the National Medal. She was also identified by the Institute of Public Administration Australia in the Established Leader category awards (Victoria) as one of the Top 50 women in the public sector. This is awarded to women in public service who have demonstrated positive and proactive leadership.
The commendations for Libby are numerous. "For professionalism, integrity and investigative commitment displayed… as an investigation team member of the CEJA Taskforce… to investigate the alleged corrupt behaviour of members of the former Drug Squad and resulting in the arrest and successful prosecution of corrupt police members…" from the Chief Commissioner. "For leadership, dedication to duty, appreciation of investigative and organisational skills as well as teamwork in the establishment and management of a Strategic Intelligence Unit at Kilmore, tasked with coordinating the identification and location of missing persons during the February 2009 fire response" from the Regional Commendation.
Recognised not only by her superiors but also her staff, one writes, "I am writing to let you know how much I appreciated your leadership and empathy during the most distressing, confronting and excruciating time in my police career. I'm profoundly grateful for your presence. Thank you for treating me with respect and compassion. You have left a significant impression on me, not because of your rank as Assistant Commissioner but because of who you are".
Libby always had a strong ambition to join the Police Force, even during her time at Genazzano FCJ College in Kew. Having moved from Vaucluse FCJ College to Genazzano in Year 9, Libby quickly became a proud 'Gen girl' and took part in all the opportunities the College had to offer. Immersing herself in College life, Libby's favourite subjects were PE, English and History. Her love for PE also shone through at the school athletics and swimming carnivals which she loved competing in, relishing the atmosphere and comradery between all the houses; and as the Winter House Prefect. It did not take Libby long to bond with her peers and she remembers enjoying many laughs in the rec room and playing a prank or two on each other. Her dreams of joining the Police were then realised as soon as Libby graduated from Genazzano in 1987.
Libby's love of learning has continued with qualifications and studies in Frontline Management, Criminal Justice Administration and Executive Strategy while serving in the Police Force; as well as through her own professional development in leadership, media training, interviews and other specialist policing courses including detective training, sexual assault investigation, arson investigation, drug investigation and prosecutions.
The number of adjectives Libby's family and friends attribute to her are endless… A kind and compassionate person that is always the first to help, support and give advice, especially during times of need. Libby has a great sense of humour, combined with care and a warmth that makes her approachable, affable and authentic.
Libby married another member of Victoria Police, Jack Gleeson and together they have been a supportive force for their community. In many ways, Libby has made it not only her career but her life's mission to keep people safe, protect the vulnerable and engage with diverse communities and cultures. Libby has a gift for seeing how things could be and then implementing changes to make them a reality. She has done this in her policing role, streamlining the process to make the job of everyday frontline policing easier.
We congratulate Libby as she embarks on her latest role as Chief Operations Officer at Ambulance Victoria (again as the first female in this role) on 23 August 2021. This is an exciting opportunity that she hopes will challenge her and provide a strong foundation; while again highlighting the different roles available to girls/women in the workforce.
---
Previous recipients
The recipients in previous years have received the award for their contributions as detailed below:
1995: Dr Suzanne Crowe (1967) Medical Research
1996: Dr Patricia Desmond (1974) Medicine
1997: Miss Catherine Santamaria (1962) Public Service and Public Policy
1998: Dr Jane Connor (Posthumous Award) (1986) Medicine
1999: Ms Gabrielle Trainor (1973) Governance and Communications
2000: Ms Margaret Easterbrook (1981) Journalism
2001: Sr Barbara Brown-Graham FCJ (1963) Education and the FCJ Society
2002: Ms Jacinta Heffey (1965) Law
2003: Dr Brenda Niall AO (1948) Literature
2004: Professor Marie Emmitt (1963) Education
2005: Miss Julie Chamberlin (1952) Education
2006: Ms Angela Cannon (1982) Law
2007: Ms Melinda Crean (1986) Music and the Arts
2008: Mrs Kerry Stone (1965) Social Action
2009: Ms Sally Isaac (Posthumous Award) (1990) Local Government
2010: Dr Anita Clarke (1982) Medicine
2011: Dr Judith Paphazy (1958) Psychology
2012: Mrs Fiona Scanlan (1978) Fashion Design
2013: Dr Bernadette Tobin (1963) Bioethics
2014: Sr Maryrose Dennehy fcJ (1949) Education and the FCJ Society
2014: Chloe McCardel (2002) Marathon Swimming and charity work
2015: Janet DeNeefe (1976) Contribution to the Indonesian Community and Tourism
2016: Jane Kennedy (1982) Media, Film and Television
2017: Dr Sarah McNab (1995) Medicine
2018: Julia Zaetta (1969) Media
2019: Rebecca Daniher (2008) FightMND
2020: Mary Hiscock (1955) Law
---
For more information call us on (03) 8862 1119. or contact us online.