2022 Outstanding Alumna Award Recipient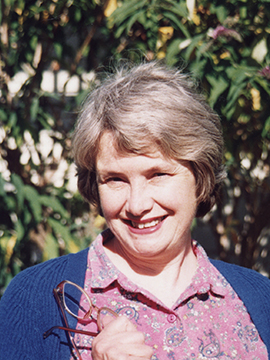 Dr Philomene Joshua Tenni
Class of 1948
Dr Philomene Joshua Tenni was a selfless and devoted wife, mother and community advocate within Victoria. As founder of the Caroline Chisholm Society, Philomene dedicated her life to supporting the needs of vulnerable pregnant women and babies; and is this year's Outstanding Alumna.

Born in 1930, Philomene was the first born to Alma Watson and Robert Joshua and spent her childhood years in the outer suburbs of Melbourne, between Leongatha, Korumburra and Mornington.

Philomene attended Genazzano FCJ College as a boarder from 1945 to 1948 and was fondly referred to as 'Phil' by her peers. Throughout her time at Genazzano, Philomene's expression of faith and identity towards social justice and equality developed. It was here where the imprint of Genazzano's Christian charism and FCJ Sisters taught her the values of respect and the means to make a difference in the lives of others. A gentle soul, with a passion for social justice and success, no challenge was ever too large for Phil.

Upon completing her final year at Genazzano, Philomene was granted a Ben Chifley Commonwealth Scholarship which enabled her to study Medicine at the University of Melbourne in 1949. Her friend and peer of the same year, Brenda Niall (OA) recalls her cherishing this opportunity and how she always wanted to study Medicine.

Realising her university dreams, Philomene commenced her first year at the University of Melbourne's extended RAAF campus in Mildura, Victoria. From here she moved on to complete her residency program during the 1950s, immersing herself in learning at the Queen Victoria Hospital, Fairfield Infectious Disease Hospital, the Victorian Eye and Ear Hospital and the Austin Hospital. Highly determined and with a passion for education, Philomene volunteered her time to several causes in addition to her career. The list is endless but some include the building of Our Lady of the Snow Ski Club at Mount Buller, fighting to save the Box Hill electricity company from being privatised and writing letters to The Age about matters of the time.
In 1960, Philomene supported her father at a Templestowe home for a Democratic Labour Party meeting, where she met Bernard Francis Tenni (Bernie). Her and Bernie were married within the year and moved from Ballarat to Box Hill, with Bernie becoming her biggest supporter and loving lifelong husband for 50 years. During 1961 to 1970, Philomene gave birth to five children – Anne-Marie, Virginia, Rachel, Stephen and Madonna (dec.). Her family life was in full swing along with her ever growing ambitions of helping others – something she would now do while raising five children.

In a male dominated profession and as newly married woman, Philomene was shunned from the public health sector which forced her to dive into private health practice – something which changed her life forever but also helped her reach her potential.
With her new found direction, Philomene ran a local medical practice in Manningham Road, Bulleen and instantly recognised the attention and guidance needed for vulnerable pregnant women and women with babies. While rewarding, this field resulted in constant overworking by Philomene and Bernie convinced her to sell the Bulleen practice.

But being the committed GP and compassionate and devoted person she was, Bernie's wish was short lived and her clients began visiting the family home for support. Identifying their desperation and pleads for help, in February 1972, the Tenni family room in Box Hill soon became the Pregnancy Support Phone Service. This support service was the first in Melbourne, operating from 10.00am to 2.00pm and 8.00pm to 10.00pm each day, with the support of volunteers who were trained and educated by Philomene's career connections. Each phone call was tailored according to individual criteria and the needs of the caller.

Philomene, or Phil, was someone who expressed a consistent attitude of love and care for people and the phone service soon turned into a home refuge for pregnant women and women with children. As the home foyer transformed into a reception area, the lounge room into a waiting room and bedrooms into consultation rooms; Phil and Bernie recognised the need for a sustainable and long term foundation for the good of their community – and this is how the Caroline Chisholm Society was founded.

A few years later, Ms Pat Coffey (OA), living in Shepparton at the time, established a volunteer service also responding to the needs of pregnant women and mothers and their families. Within a decade, the two networks came together and taking inspiration from Caroline Chisholm become an incorporated, accredited and registered community service.

In the present day, over 50 years later, the Caroline Chisholm Society remains connected to their founders with centres in Essendon, Caroline Springs and Shepparton. They are still supporting pregnant women, focusing on the first 1,000 days of a baby's life and helping thousands of women across Victoria to positively change their futures through technology, knowledge, communication and resources. The Society's support programs create safe environments for vulnerable, pregnant women and provide community and financial support, including access to baby goods and maternity wear.
Philomene maintained a strong connection to Genazzano FCJ College, with her daughters and granddaughters also completing their schooling here. She loved the bliss of life, watching birds come to drink, enjoying the sea air, exploring the bush and skiing in the snow. She marvelled in God's creations.

Like Marie Madeleine d'Houet, founder of the FCJ Society, Philomene's visions were beyond her years; and drawing on her faith in God, Philomene spent a lifetime volunteering and helping others – even teaching religion to children in hospitals. Still today, her foundation is helping women in Victoria against homelessness, mental health issues, family violence and social isolation. 'Through her compassion, resilience and dedication to women, their babies and their families – her legacy will live on' (Caroline Chisholm Society).

Philomene's devotion to a lifetime of giving to others is a true testament to her strength and passion for life, learning and the service of others. The College is honoured to acknowledge her contribution to society and to helping women and children in need.

Sadly, Philomene passed away earlier this year in June but her legacy and life work remains an inspiration for all young women. From those who knew her best, her family and members of the Caroline Chisholm Society, just like Caroline Chisholm herself, Philomene will be remembered as 'a warrior, an activist, a social justice advocate and a Doctor of Medicine'.
---
Previous recipients
The recipients in previous years have received the award for their contributions as detailed below:
1995: Dr Suzanne Crowe (1967) Medical Research
1996: Dr Patricia Desmond (1974) Medicine
1997: Miss Catherine Santamaria (1962) Public Service and Public Policy
1998: Dr Jane Connor (Posthumous Award) (1986) Medicine
1999: Ms Gabrielle Trainor (1973) Governance and Communications
2000: Ms Margaret Easterbrook (1981) Journalism
2001: Sr Barbara Brown-Graham fcJ (1963) Education and the FCJ Society
2002: Ms Jacinta Heffey (1965) Law
2003: Dr Brenda Niall AO (1948) Literature
2004: Professor Marie Emmitt (1963) Education
2005: Miss Julie Chamberlin (1952) Education
2006: Ms Angela Cannon (1982) Law
2007: Ms Melinda Crean (1986) Music and the Arts
2008: Mrs Kerry Stone (1965) Social Action
2009: Ms Sally Isaac (Posthumous Award) (1990) Local Government
2010: Dr Anita Clarke (1982) Medicine
2011: Dr Judith Paphazy (1958) Psychology
2012: Mrs Fiona Scanlan (1978) Fashion Design
2013: Dr Bernadette Tobin (1963) Bioethics
2014: Sr Maryrose Dennehy fcJ (1949) Education and the FCJ Society
2014: Chloe McCardel (2002) Marathon Swimming and charity work
2015: Janet DeNeefe (1976) Contribution to the Indonesian Community and Tourism
2016: Jane Kennedy (1982) Media, Film and Television
2017: Dr Sarah McNab (1995) Medicine
2018: Julia Zaetta (1969) Media
2019: Rebecca Daniher (2008) FightMND
2020: Mary Hiscock (1955) Law
2021: Libby Murphy (1987) Public Service
---
For more information call us on (03) 8862 1119 or contact us online.